WJEC Chief Examiner for Art & Design officially opens our new Art Block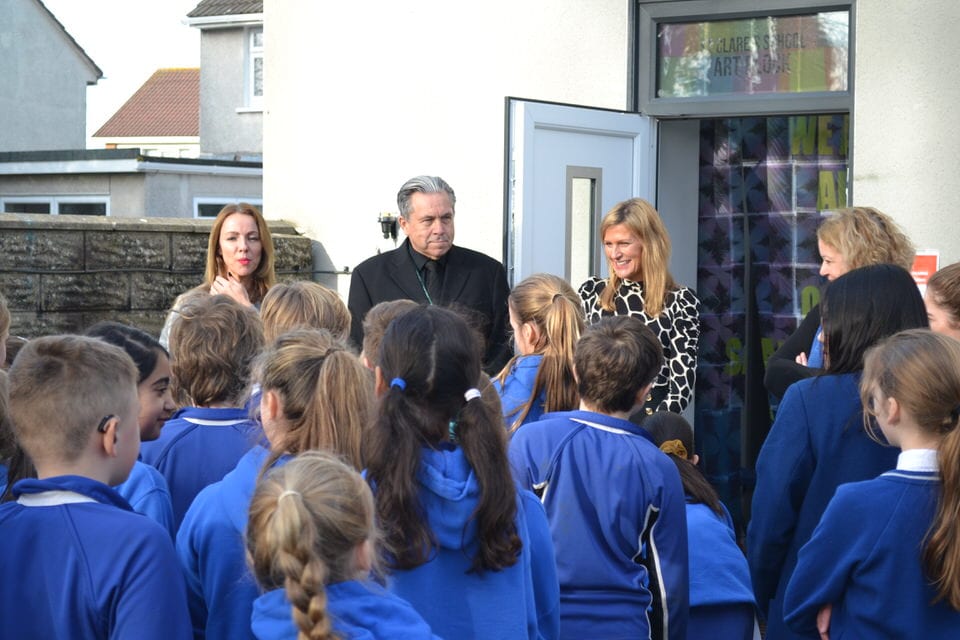 St Clare's School held a celebration event last week to mark the official opening of our fabulous new art facility and pupils from Year 5 to Year 13 took part.
The newly refurbished building was officially opened by VIP, Mr Steven Knapik in a rather unique way!  Mr Knapik is a former teacher at Pen-Y-Dre High school, and received an MBE for services to young people in Merthyr Tydfil and Poland. Mr Knapik set up Blue Balloon, a children's charity, which has helped raise more than £60,000 in the last 12 years.
Mr Knapik is also, the WJEC Chief Examiner for Art and Design. Headteacher, Mrs Helen Hier said, "We are very fortunate and lucky to have Mr Knapik here with us today, opening this fantastic new art block, which all you future artists will work in when you come up to the Senior School."
Mr Knapik recently awarded one of St Clare's Year 10 pupils an art prize, recognising endeavour and achievement in art against all the odds. This is a prize that Mr. Knapick has started, to support pupils across South Wales.
St Clare's offers Art and Graphics at GCSE with Art, Graphics and Textiles at A-Level.
Last summer 100% of Art GCSE grades achieved were 4+ (A*-C).
37.5% achieved a Grade 9 in Art vs the UK national average of 5.8%. The new Grade 9 is equivalent to an A**.
Published on: 6th February 2020