Cost of Cancer Christmas Card Competition Winners
Founder of local charity, Cost of Cancer, Nicky Moss surprised and delighted pupils at St. Clare's, Porthcawl when she arrived to announce the winners of a special Cost of Cancer Christmas Card competition. The four winning card designers were Presley, Odette, Lucy and Theo who all won prizes and will have their winning designs printed.
Nicky Moss, Founder of Cost of Cancer knows first-hand how difficult life can be when you're off work and going through treatment for cancer. Not because she's had cancer but because she nursed her best friend through the illness back in 2008/2009.  She's been determined ever since to make sure that there is financial help out there for people like her friend.
Cath Barnard, former Head of St Clare's is a recently appointed Trustee for Cost of Cancer too. She's joined the team with a drive and passion which is totally infectious.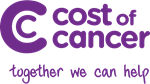 Cost of Cancer's next event is 'A Light for a Life' service at The Hi Tide, Porthcawl on Sunday, 2nd December. It's a new venue for this year's Light for a Life. It will be a beautiful service to remember loved ones at Christmas-time.  There will be a hog roast and Father Christmas for the children.
Published on: 27th November 2018