Pupils celebrate superb GCSE results at St Clare's School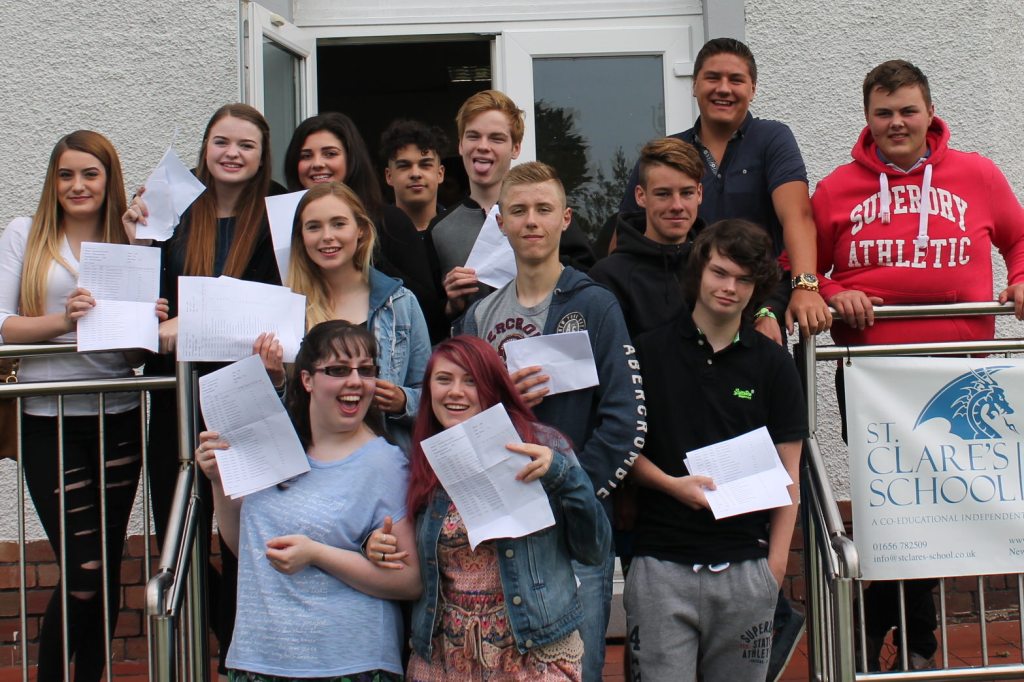 Pupils and teachers at St Clare's School, Porthcawl are celebrating after another year of excellent GCSE results. 88% of the pupils gained 5 or more A* to C grades, with 29% of students attaining grade A*/A at GCSE and 74% of students attaining a C grade or above in English and mathematics. These results see St Clare's pupils consistently outperform the exam outcomes of students in schools across Wales where, for example, the pass rate at A*-A is 19%.
Particular congratulations go to straight A pupils, Megan Greenwood (6 A* and 5 As) and Lance Burn (8 A* and 3 As), closely followed by Pavan Patel who achieved 2 A*, 8As and a B.
Headmaster, Simon Antwis, commented, "These results are fabulous and demonstrate that St Clare's pupils achieve outstanding results in an ever strengthening academic environment. We have had many jubilant faces this morning, whoops of elation and tears of relief."
Headmaster, Simon Antwis, was delighted at the success of the Year 11 pupils. "To see so many pupils achieve A*/A grades in their subject choices is testament to how hard they have worked over the last two years and how dedicated our staff have been in ensuring that pupils are stretched to meet their full potential and exceed challenging targets."
Places are still available in our excellent Sixth Form and our Admissions Office is open between 9:00am and 3:00pm throughout the summer holidays to take enquiries.  Contact Holly Fowlkes, our Marketing & Admissions Officer on (01656) 789966 or email holly.fowlkes@stclares-school.co.uk  stclares-school.cognita.network
Published on: 25th August 2016