Nursery Grandparent
St Clare's is an excellent nursery school. My grandson has excelled in the few short weeks he has been there. The staff are always friendly, and the curriculum is fantastic! Looking forward to my grandson starting Spanish and Forest School after half term!
This is not just daycare … this is a St Clare's Nursery education with Forest School, Spanish, PE and optional ballet.
Judged "Excellent" by Estyn in April 2014, the nursery at St Clare's School is very special with its small class sizes and a full-time qualified teacher. We welcome little ones from the age of 2 1/2 years until 4 years.
The early years of a child's education are ones of excitement, exploration and discovery. It is a time when they are introduced to a world beyond the secure and familiar confines of home life, when they begin to make friends, experience new play opportunities and interact with adults beyond their immediate family.
Pupils at St Clare's benefit from a continuity of education as they can progress from Nursery, through Prep to the Senior School and Sixth Form. Our Nursery children also benefit form the facilities and resources available at an independent school school such as the dining hall, Forest School area, large open grass spaces, sports fields and main halls.
During term time the school is open from 8:00 for early drop-off. Our Nursery children are welcome to join our After School Club which provides a light snack and fun activities from 3:30 until 5.30pm and there's no additional charge for our Nursery pupils.
As your child takes their first steps along the exciting journey of learning and development, our highly skilled and motivated staff will nurture them through their crucial early years. We take great pride in our school's success in preparing children to the highest academic, social and moral standards.
Our bright and spacious Nursery offers outstanding levels of care in a safe, stimulating and creative environment. Our excellent and enthusiastic staff are highly qualified and chosen with great care, reflecting our commitment to maximising the comfort, happiness and progress of our children.
A large, secure astroturfed outdoor play area provides play facilities to help children develop physical skills, whilst we help them build their cognitive and social skills with a topic-based Learning Programme which includes a variety of academic, music, dance and art activities as well as Spanish, Forest School (and optional Ballet). Healthy eating is encouraged, as children stop for fruit snacks during the day.
Download our Nursery prospectus.
Meet Mrs Vanderbrink, our Nursery Teacher
St Clare's School Nursery is the best start for your child
Mother of girl, Nursery 2
The Nursery teachers are fantastic and always take the time to discuss our daughter's development with us. We would recommend the Nursery to absolutely everyone.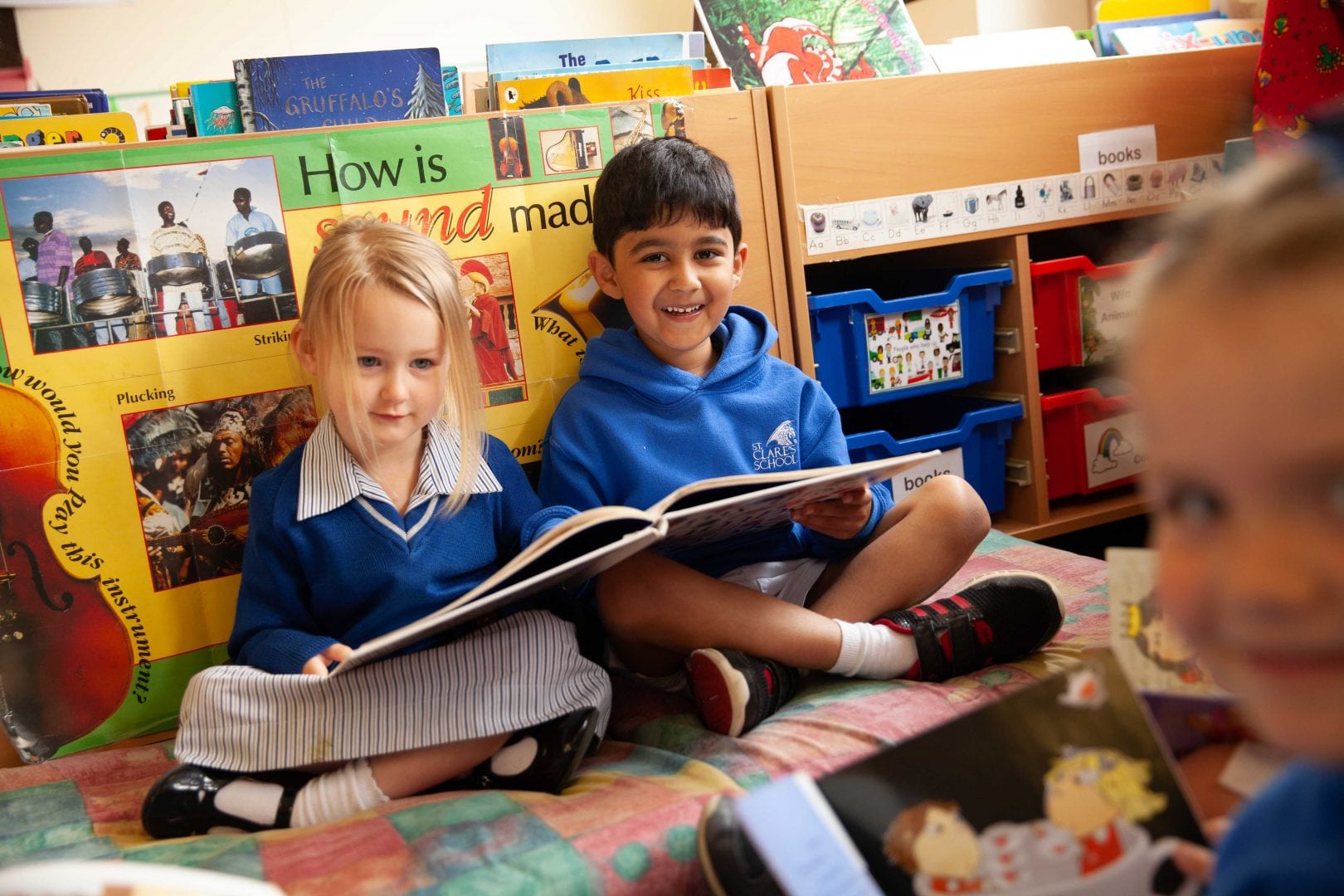 Mother of boy, Nursery 2
Excellent and caring nursery staff. We love the nursery and the school very much and definitely recommend it to all family and friends!