Welsh Hearts present defibrillator to Head Boy, Tom Hood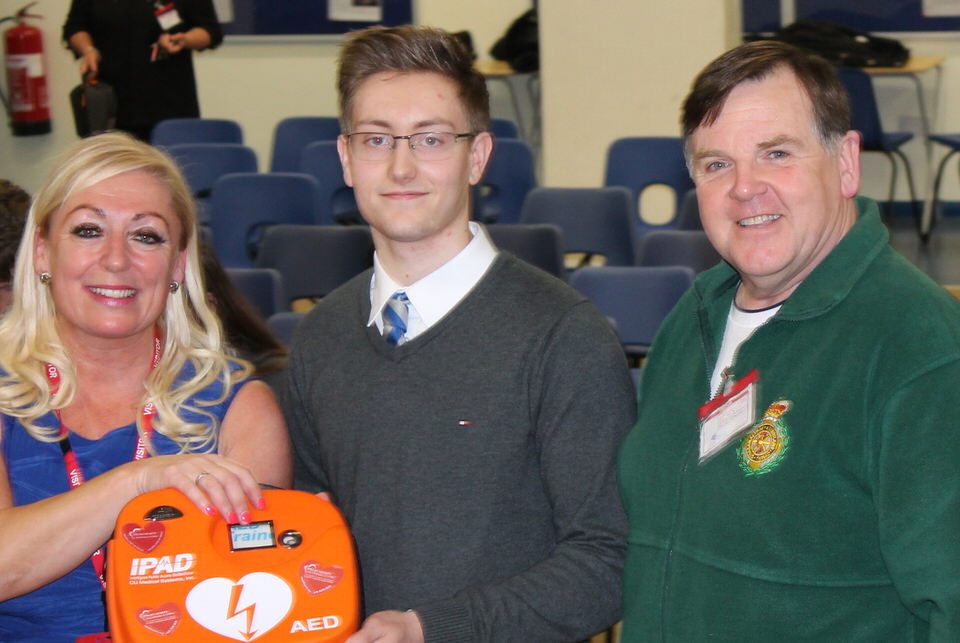 We're very proud of our Head Boy, Tom Hood.  A former pupil of Oldcastle Primary, Tom's ambition is to become an orthopaedic surgeon. Currently studying A Levels in Biology, Chemistry and Maths, Tom has applied to read Medicine. He has organised his own unpaid work experience placements during the summer holidays for the last two years at the Princess of Wales and Santa Maria hospitals where he observed life-changing orthopaedic operations.
Tom did all the usual volunteering for his Duke of Edinburgh Bronze Award, but determined to help save lives even before he becomes a surgeon, he joined St John's Ambulance in Bridgend last summer as a regular volunteer.  It was there Tom learned to use a defibrillator and realised the incredible difference it could make to saving lives.  Inspired by a Welsh Hearts campaign poster, Tom then set about single-handedly organising a whole school event at St Clare's to raise enough money to get this life saving equipment (despite being in the middle of his important sixth form studies).
Tom also arranged for Welsh Hearts to come in and teach important life-saving skills to his fellow 6th Form students. Tom hopes that it may inspire other pupils to follow a career in medicine.
Tom's other love is music. He started piano lessons at 7 and has passed his Grade 8 at the same time as his GCSEs. Tom has played in numerous concerts and musicals at school but is hoping to find a local bar or restaurant who'll want a part-time pianist once he's studying at university.
Published on: 26th April 2017