Top-performing Sixth Form celebrates A-Level success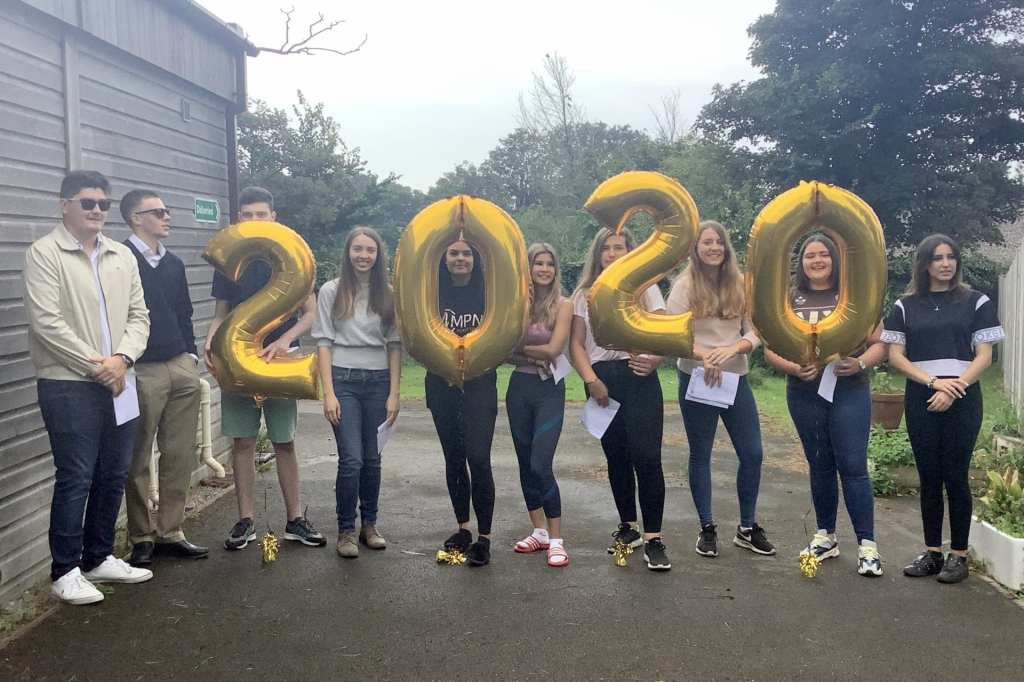 76.3% of grades at A*/A and 100% of grades at A*/B
St Clare's Sixth Form continues its track record for outstanding results at A-Level, with Year 13 students achieving 76.3% of all grades at A*/A and 100% at A*/B, securing places at the most competitive universities, including many in the Russell Group.
The 2020 A-Level grades build on the excellent results seen in previous years with another 100% pass rate. This year, 76.3% of grades were at A*/A and 100% at A*/B with 31% of students achieving AAB or higher in at least two facilitating subjects and 100% pass rate for Further Maths for the second year running. St Clare's has been in the top 5% of top performing A-Level schools in the UK for the last two years and anticipates this to be the same this year.
Star Performers
Head Girl, Alys Ridsdale, secured three A* in Chemistry, Biology and French and has accepted a place at Exeter University to read Medical Sciences.  She joined St Clare's in Year 9 and secured eight Grade 9s and an A* at GCSE.  Alys said, "St Clare's has been outstanding as always throughout this trying time."
Head Boy, Ben Martin, secured three A* in Maths, Further Maths and Physics. Ben joined St Clare's in Year 8 and secured five Grade 9s, two 8s, two 7s and A* at GCSE. Ben said, "In what should have been an incredibly stressful few months, our Sixth Form teachers have eased the stress and made the situation much easier to deal with." Ben has accepted a place at Warwick University to read Mathematics in a four-year Masters course and plans to become an investment banker.
Future vet, Beca Evans, secured two A* and an A in Chemistry, Biology and Maths. Beca joined St Clare's in Year 9 from a Welsh medium school and said, "St Clare's has provided such high-quality teaching throughout my A-Levels, including during this pandemic, both educationally and pastorally." Beca has accepted a place at the Royal Veterinary College in London to read Veterinary Medicine.
Future architect, Olivia Woodward, secured two A* and a B in Fine Art, Graphic Communication and Business and has accepted a place at University of Reading to read Architecture. Olivia said "Since joining St Clare's at the age of two and a half, I have thoroughly enjoyed my time here, but I never imagined that it would end in the manner that it has. The teachers have always been supportive throughout my school life but especially so during my A-Levels and have provided quality online learning."
Headteacher, Helen Hier, said, "We are absolutely thrilled that our students have achieved such outstanding results, which is down to their hard work and the excellent teaching at St Clare's School. It is a pleasure to celebrate with them all today. We are delighted that so many students have secured places at their first-choice universities, to read competitive subjects such as Medical Sciences, Mathematics, Veterinary Medicine, Architecture and Computer Science & Artificial Intelligence."
Inspiring Futures
Our Year 13 and Year 11 students were offered the opportunity to take part in Cognita's Inspiring Futures Programme. Headteacher, Helen Hier, explains "Covid-19 presented us with an opportunity to prepare our young people to be the most agile and resilient cohort of students for generations. This new virtual world has catapulted us towards the type of future working environment that out students will in time own and lead. This was a huge opportunity for students in Years 11 and 13 to develop those extremely important intangible skills that will benefit them throughout their life. Increasingly universities and employers are looking for elements, other than grades, to show that a student can bring something different or exceptional to the party. Some are often referred to as soft skills – the ability to converse, persuade, present, articulate. Other elements include things such as self-created research projects into an area of interest, active membership of societies, completion of extra-curricular courses, volunteer work etc. Our objective with the programme was to make our students future ready!"
"They have been a fantastic year group who have shown leadership, positivity and commitment throughout their time here and we wish them all the very best as they take the next step on their educational journey."
The majority of St Clare's students gained a place to study at their first-choice university, including top leaver destinations Warwick, Royal Veterinary College, Exeter and Cardiff.
Published on: 17th August 2020