The Seussical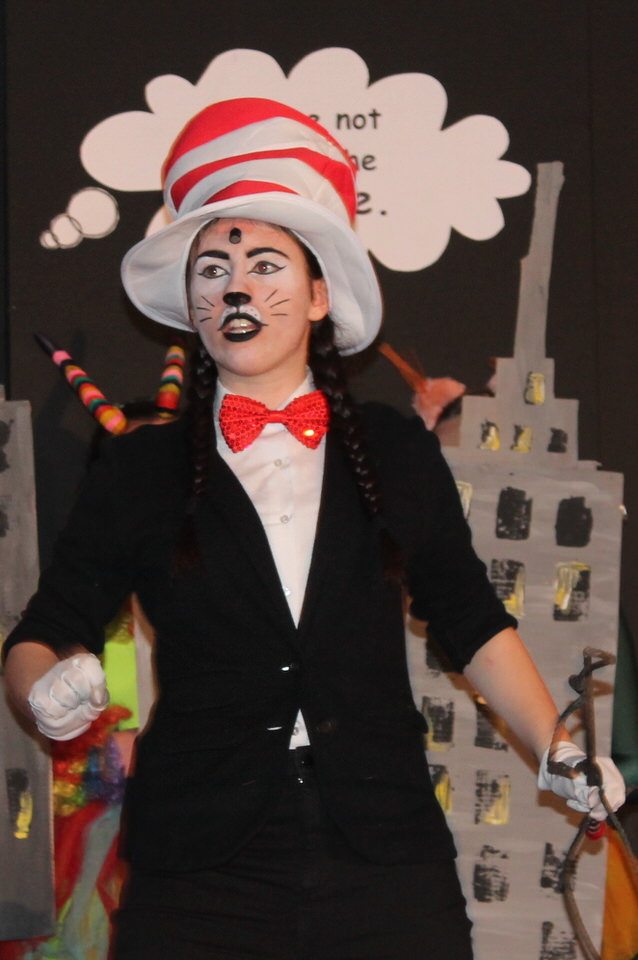 Why fit it when you were born to stand out?
"Oh, the thinks you can think, when you think about Seuss!" These were some of the first lyrics heard in St Clare's production of SEUSSICAL THE MUSICAL. And boy, what thinks were brought to life on the stage in this fresh, fun, and family friendly musical.
You'd have to be living on another planet not to at least be somewhat familiar with the source material for this show, a collection of some of Dr. Seuss's most iconic stories.  It was truly a thrill to see these beloved characters come to life on the stage. For those not familiar with the musical, it is a mash-up, of sorts, of the stories of Horton the Elephant, Gertrude McFuzz, Jojo the little Who with big thinks and all those that they encounter in their crazy Seuss-fuelled adventures. The show included favourites like the Grinch and Mayzie La Bird and was narrated by the most iconic of Seuss' creations, The Cat in The Hat. It's a story about being different, believing in yourself, and relying on your imagination to take you to wonderful places.
Theatrical Director, Hayley Corthine, created the most fantastic opening for the school's production of the popular musical with pupils as young as Year 2 right up to the Sixth Form, performing as animals and Whos. There was real skill employed in the production and the talent of the cast performing it.
What filled the stage with colour, texture and Dr Seuss magic though were the costumes. Children in the audience excitedly pointed out The Cat in the Hat (Kate Layland), Gertrude McFuzz (Emily Smith), Horton the Elephant (Theo Quantick), Mayzie La Bird (Lili Smith), Sour Kangaroo (Molly Jones) and JoJo (Jack Olding), each character with a recognisable and well-designed outfit.
The Seussical's Producer was Mary Layland.  The costumes and props, (Louise Williams, Diane Trenoweth, Paula Williams & Kathy Phillips) hair and make-up were visually stunning.  The acting was brilliant and the music, of course, was truly magical, thanks to Musical Director, Jason Staddon.
It was a really fun, uplifting, and exciting show, full of loveable characters, upbeat songs, colourful costumes and a talented cast. It was a show for the whole family, even the grinchiest of Grinches!
Published on: 4th January 2018