Stunning Artwork Steals the Show!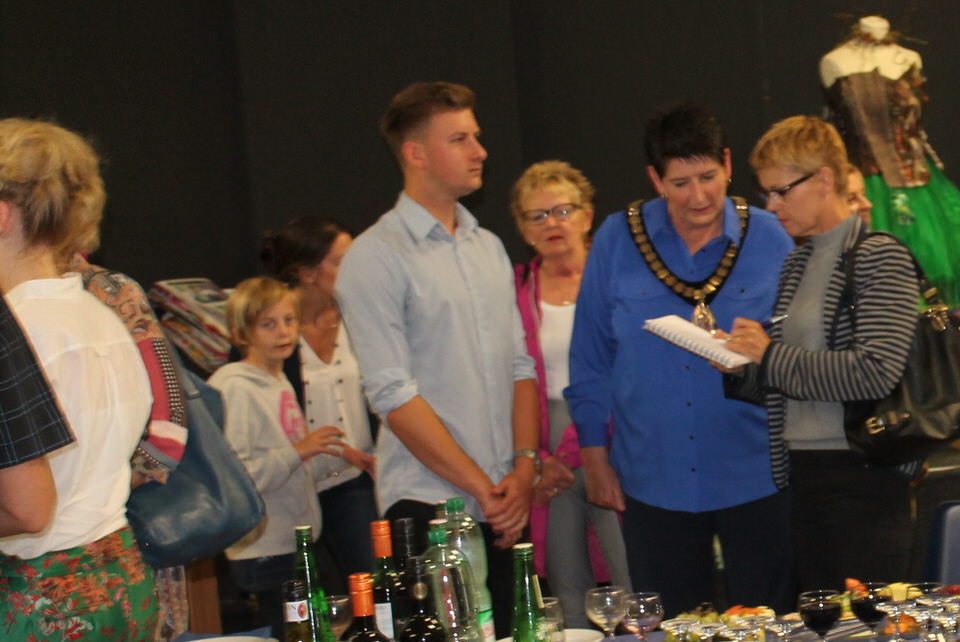 Independent school, St. Clare's, opened its doors to the public for its annual Summer Exhibition.
Staff, parents and family members of pupils past and present gathered to admire the large collection of work. We were delighted to welcome our Guest of Honour, the recently elected Mayor of Porthcawl, Cllr Lorrie Desmond-Williams who attended with her son Robert Lane, an ex-pupil of St Clare's.
A stunning mix of self-portraits, abstract art, seascapes, 3D design pieces and prom dresses filled the hall and were much admired by the large crowd of guests. Our Art and Design Department boasts tremendous examination results every summer and students have gone on to study at top universities for Art.
St Clare's offer textiles, graphic design and fine art at A Level.  In each subject, pupils are given a lot of flexibility and are able to choose their own theme which they wish to develop. Pupils then create design briefs and extensive portfolios of work before completing their final pieces and sitting their practical exams.
Teachers, Miss Evans, Mrs Williams and Mrs Corthine said, "We're extremely proud of all our students and would like to thank everyone for attending the art show.
Our Headmaster, Simon Antwis, was delighted to see such a great turnout at the Art Show. "Once again it was a pleasure to marvel at the talent and sheer imagination of our A-Level and GCSE art and textile students. Congratulations to all our students for their fantastic results. Well done and thank you to our inspirational teachers who continue to ignite in young people such a passion for Art at St. Clare's.
Published on: 7th July 2017