St Clare's Prep Speak Out-Stay Safe with the NSPCC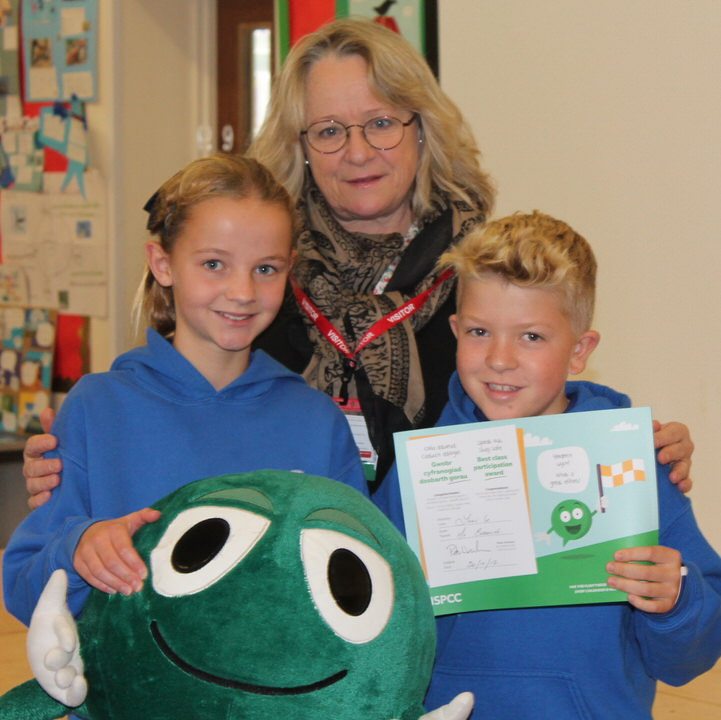 Pupils from St Clare's School near Porthcawl got involved in an exciting fundraising event and raised well over a thousand pounds to help the NSPCC be there to keep even more children safe.
Sara Phillips from the NSPCC has been into St Clare's Prep School near Porthcawl, with mascot Buddy as part of the Speak Out. Stay Safe programme especially developed so that a whole generation of children have the knowledge and understanding they need to stay safe.
By the end of Sara and Buddy's interactive assemblies and workshops, the children felt empowered, knowing they could speak out and stay safe so they decided to take part in a sponsored Danceathon to raise money to help NSPCC continue their amazing work.
Sara and Buddy came back in last week to collect a fantastic total of £1,142.50 from Prep Head Girl, Jessica and Prep Head Boy, Louis.
An NSPCC Wales spokesman said: "We would like to say a huge thank you to St Clare's School for all their fundraising efforts. Every penny raised will make a massive difference to the work that we do as a charity. It will help go towards our Speak Out. Stay Safe schools service, which sees us visiting schools across Wales to teach children about how to stay safe from abuse and how to report it, as well as our Childline service, which supports children when they need it the most."
Visit nspcc.org.uk/schoolfundraising
Published on: 23rd October 2017