The Lion King is a roaring success!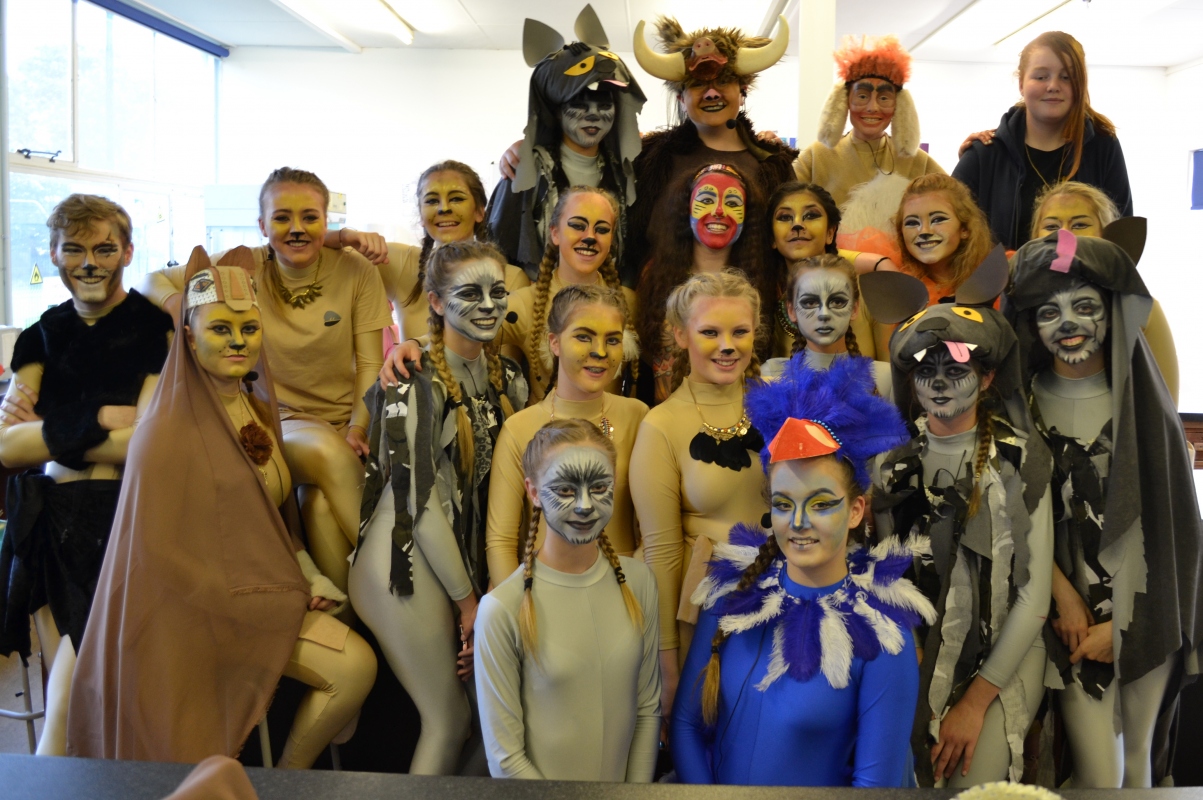 It was a visually stunning and magical week of Musical Theatre for St Clare's School's production of the Lion King.  You couldn't help but get goosebumps on your goosebumps as the lights went down and Rafiki (Kate Layland) began summoning the animals to Pride Rock. Theatrical Director, Hayley Corthine, had created a fantastic opening for the school's production of the popular musical involving pupils from as young as Year 2 in the Prep School right up to the Sixth Form, all performing as animals.
With the bar set so high in the opening number, the challenge was to keep everyone's interest for the next hour and a half and the show certainly did that. We saw real skill employed in the production and the talent of the cast performing it.
The story is based on a lion prince, young Simba (Maisy Corthine/Menna Walker), born in Africa, making his Uncle Scar the second in line to the throne.  Scar plots with the hyenas to kill King Mufasa  and Prince Simba, in order to make himself King.  The King is killed and Simba is led to believe that it was his fault, and so flees the kingdom in shame.
After years of exile, adult Simba (Lili Smith) is persuaded to return home to overthrow his uncle, Scar who is now the King and claim the kingdom as his own, in doing so, completing "The Circle of Life".
Kate Layland made a wonderful Rafiki, taking on the role of an African Sangoma (healer) she was both wise and humorous, guiding Simba back to the pride.
Bethan Williams played Mufasa, majestic and imposing. Scar, the King's wicked brother was played by, Alex Lees. Slimey, snide and murderous, Lees struck just the right balance. The lovable Zazu, King Mufasa's advisor was beautifully played by Molly Corthine.
All good baddies need henchmen, of course, and Imogen Mathias, Alys Ridsdale, Emily Smith and Kym Zhang made a great group of nasty Hyenas. There was plenty of hyena humour in these characters but they were quick to become quite dark as they turned on Scar.
The comic element was supplied by brilliant double act, Amelia Kirkby as Timon the meerkat and Theo Quantick as Pumbaa, the flatulent warthog, who befriend and advise the young Simba.  With perfect comic timing, it was apparent they weren't the smartest of comrades but with friendship and loyalty they became two of Simba's greatest teachers.
The costumes (Kathy Phillips/Christina Farmer), hair and make-up (Jess Rolls/Laura Evans/Carla Carla Prinsloo and a fabulous team of parents) were visually stunning.  The acting was brilliant and the music, of course, was truly magical, thanks to Musical Director Lauren Beale. Definitely goosebumps for the audience when the children sang the familiar songs from the film like Hakuna Matata, Can You Feel The Love Tonight? and The Circle of Life.  The whole show was a roaring success!!
Published on: 1st July 2016