Ex-pupil Hannah Bluck presents her Wales Women Rugby shirt to school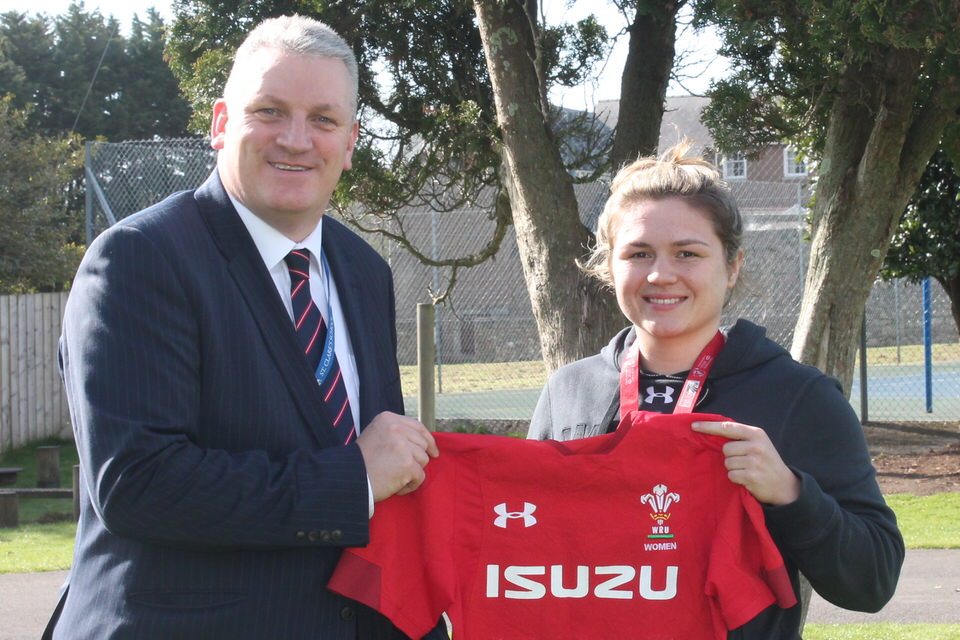 Ex-pupil, Hannah Bluck, 20, returned last week to present the school with her Welsh rugby shirt.
Multi-talented athlete has represented Wales in three sports
Hannah, from Porthcawl, has represented Wales at football, basketball and now rugby. Despite only picking up a rugby ball a year ago, she was one of 10 uncapped players to be named in the Wales Women squad for the 2018 Six Nations in February and went on to make a dream debut, touching down in the first half of their 18-17 win. The selection has topped a busy few years for multi-talented athlete Hannah, 20, who is studying for a degree in Strength and Conditioning at University of South Wales (USW).
Hannah first represented Wales in basketball when she was in school, aged 15, and within the space of two months Hannah, who played centre-back, had represented Wales in football at three age levels: under-16s, under-17s and under-19s.
Never give up!
Hannah's promising career, however, took a serious setback in 2013 when she dislocated her ankle 180 degrees and fractured her fibula but the freak accident also led to the diagnosis of avascular necrosis in her tibia, a rare condition that causes a lack of blood supply to the bone. Never one to give up, she fought back and after surgery Hannah was in the gym three times a week weight-training. She returned to football two years later and it was then she was asked to help out with training the Women's Rugby Team at USW, and it's from there that Hannah started to play rugby.
"It's an honour to play for your country".
"I was so happy to be given the chance to represent Wales. It's an honour to play for your country.  I'm really keen to be a role model, and show others that it's possible to achieve anything if you work hard enough."
"With the women's game becoming more and more popular, and the men's game already being strong, I'm hoping to be able to use my degree and get a job in the strength and conditioning side of things, and I can only see my experience helping with that."
Published on: 8th May 2018