Nine year old Chloe's charity walk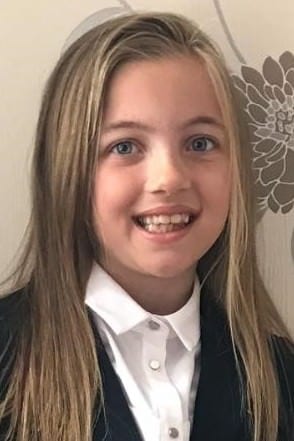 9 year old Chloe undertook a gruelling 24 mile charity walk
Year 4 pupil Chloe undertook a gruelling 24 mile charity walk on Saturday to help a local medical centre's campaign to raise money for a thyroid cancer support group.  She saw that the Porthcawl Group Practice was raising money for the thyroid cancer support group, which plays a hugely important role providing a network of support for people with that cancer. Thyroid cancer is something that is close to 9 year old Chloe's heart, because her auntie had previously been affected by it.
Local endocrine surgeon, Mr Richard Egan, recently ran the London Marathon to raise money for the charity. Inspired by this, Chloe started her fundraising by baking cakes and selling them to family and friends, raising £38 which she took to the surgery where they were selling raffle tickets for the cause. Several days later she received a letter and thank you card from Richard Egan.
But determined Chloe didn't stop there and decided she wanted to raise even more money for the charity. She decided to do a sponsored walk from Porthcawl Group Practice to Aberavon and back, a total of 24 miles.  Richard Egan offered to do the walk with her and contacted the Gem and the Gazette newspapers to cover her story. Also joining Chloe on her walk were her parents Clare and Darren and supporters of the group. Chloe's auntie also joined them for as much of the walk as she could manage.
Chloe originally aimed to raise £2,000 for the group but she has already topped her target because so many people have been touched by her sheer grit and determination.
Chloe has a justgiving page. The link is:
https://uk.virginmoneygiving.com/DarrenCollett1/1?
Published on: 14th May 2019