Annual Prize Day at The Grand Pavilion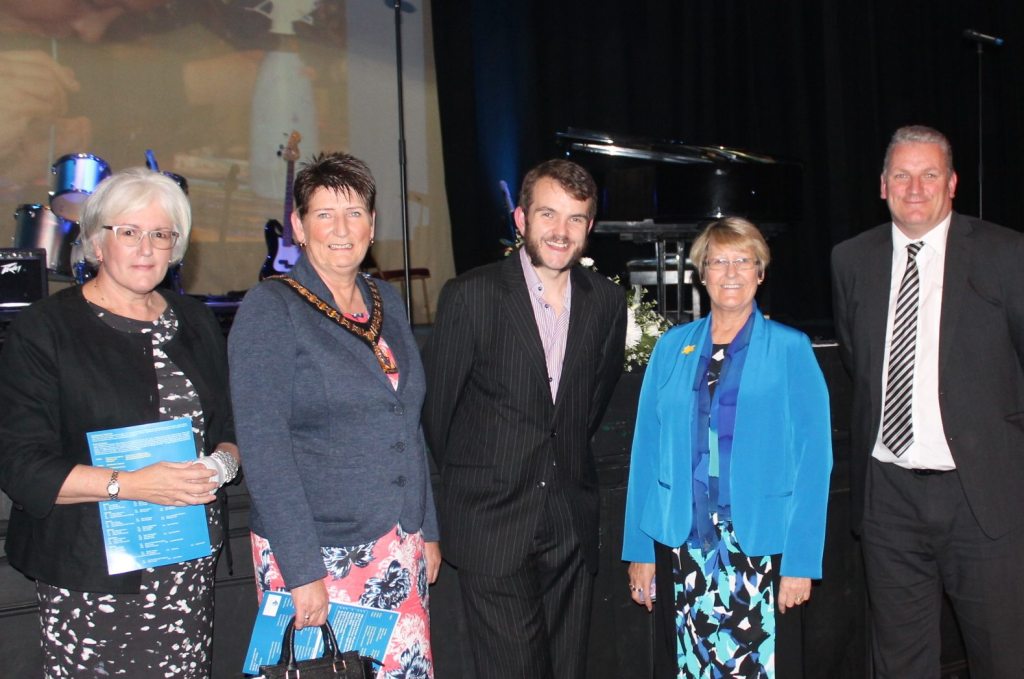 Porthcawl's famous Grand Pavilion provided the perfect stage to celebrate the achievements of the past year and reinforce ambitions for the coming year for St. Clare's which continues the tradition of rewarding our young achievers with its Annual Prize Day ceremony. Boys and girls from the Prep School right up to Sixth Form received prizes for academic excellence and sporting achievements.
This year St Clare's welcomed the Mayor of Porthcawl, Cllr Lorrie Desmond-Williams, Mary Emment-Lewis, outgoing Chair of Porthcawl's Town Twinning Association, and Porthcawl Rotarians, Barbara and Bill Stubbs.
Guest of Honour was Rhys Jones, a former pupil who since 2012 has been part of Morgan & West – a stage magic duo who travel the world with shows and who have appeared on BBC and ITV with Penn and Teller. Rhys was a student at St. John's and then moved to St. Clare's Sixth Form to study A-Levels and was privileged to be Head Boy at both establishments. After a gap year he went to John's College, Oxford to read Physics where he met now friend and business partner Rob Tay. In 2008 they mounted their first show as magicians and within year they had a name for their act, Morgan & West, and took their first duo show to the Edinburgh Fringe Bamboozlement!  Enjoying relative success, they decided to make a go of this possible magic career and now tour the country on a regular basis and are currently touring with More Magic For Kids their second kids show and Time Travelling Magicians a full evening show. They are known nationally and indeed throughout the magic community for the quality and originality of their shows and are pleased to be able to call both Derren Brown and Dynamo both friends and fans of theirs.
Addressing a full house at The Grand Pavilion, Rhys kept the audience on the edge of their seats with his inspirational talk, interspersed with some jaw-dropping mind-reading and a hilarious video "What advice do you wish you'd had when you were at school?" featuring clips from his friends and fellow magicians including Penn and Teller, Dynamo and Derren Brown. But there was a serious side to his speech too which highlighted the importance of discussing mental health issues and Rhys reminded students to "Be kind to yourself", "Be kind to others" and "Never be afraid to ask for help".
Another special guest was Dr Sally Pugh-Williams, an ex-pupil, who was there to present a new category of award, the Wendy Murray Prizes for Achievemement, Challenge and Excellence. Dr Pugh-Williams and fellow alumnae had returned to St. Clare's last December to celebrate meeting 50 years ago and St Clare's is delighted that she has agreed to mentor our medical students.
We are all dazzled by the musical talent showcased today.  Opening the show, Emily Smith (acoustic guitar) and Millie Jenkins sang a beautiful duet of Wherever You Will Go then Jake Bromhead (drums) and Ben Roberts (electric guitar) played Another Dime and Helicopter.
After all the awards had been presented and the speeches made, we were treated to Lili Smith singing Ave Maria and Kate Layland singing Maybe This Time  and then the duet Half the World Away with Kate on piano.
And last but definitely not least, the Senior School cast gave us a sneak preview of December's show Seussical the Musical with Oh The Thinks You Can Think.
What a show!
Published on: 4th October 2017